What's BB&B stand for you ask? Why bed and breakfast and boat show that we just attended (3 weeks ago) via Newport Rhode Island! We have been so busy since we got back that only now have we managed to put up all the wonderful photos and share the adventure with you, our avid readers (all 3 of you!).
We actually planned this trip over 9 months ago when we were sailing in Annapolis, MD. I have been so curious to go to a boat show since we started sailing, and learned that the Newport, RI show is the most famous one of all. So we bought our tickets almost a year in advance (since it fills up fast), and made a little vacation out of it.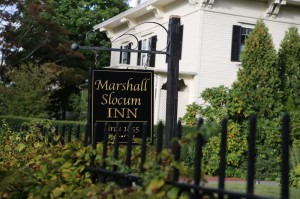 If you don't remember, we were just on Colorado Photo Safari for the previous 5 days, so we barely got home in time to drop off our stuff from one trip, repack and head out for our 6:45AM flight departure the very next morning. Since there are no direct flights we had to fly to Chicago, Midway, and then to RI, all in crummy rainy weather! But on both of our flights we sat next to some very friendly and chatty people, so it actually made them go by very fast. There were many other people traveling to RI with us so we made some new friends during these airport excursions.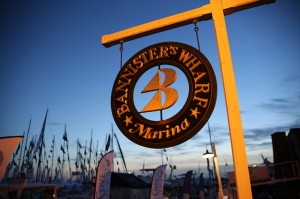 We finally got to RI around 3:30pm and caught a shuttle to our B&B, which got us in around 5pm. Our entire day was spent traveling, so we were really tired when we got there. But, we decided to take in some sights and go down to the wharf, aka 'town center of Newport'. We hit up The Lobster Bar for our first meal and DEVOURED lobster claws, Fish & Chip sammie's and a lobster roll…oh and of course some local brew. It was an awesome first meal to welcome us to Newport. We decided at that point that all of our dining would be centralized around lobster and all things lobster for the next few days.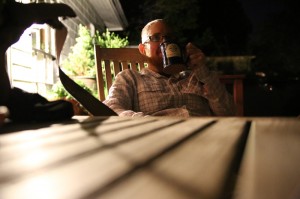 After dinner we walked through some shops then headed back to our B&B around 8pm to sit on the back porch and soak in the beautiful sights and sounds of nature while enjoying hot tea. Our B&B was located about 5 blocks from downtown Newport so we planned to walk everywhere. Dubbed the Marshall Slocum Inn, is a converted historic mansion
(as are all the buildings in Newport)
so it charming historic and east coast essence were perfect. The king size bed was ridiculously comfortable, so we pretty much passed out as soon as we laid down on that first night.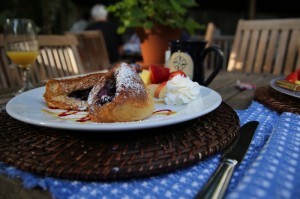 Thursday morning we awoke super refreshed and ready to take in the New England air. We went down to the porch where we enjoyed a fantastic homemade breakfast. Jilly had stuffed portuguese blueberry French toast with fruit and I had a Greek omelet. We chatted with the inn keeper a bit as well as some of the other guests and then hit the streets for our first full boat show day. 
It was a whirlwind of booths, clothes, miscellaneous boat gear, rigging, safety, and so on…mostly excessive things that aren't really necessary, but make life more comfortable in the water. Then there were the boats themselves…wow! We spent about 6 hours of the day taking it all in. We explored around 50 boats from small-to-modest 33-footers to huge 76-and-up-footer sailboats and catamarans. We even spent some time looking at the powerboats that could rival a tiny kingdom…some of the boats were so top-of-the-line, you had to have an appointment to view them! We went on one boat by Princess (a top brand of high-end boats) that was going for about 5 million. It was hard to believe someone actually owned it.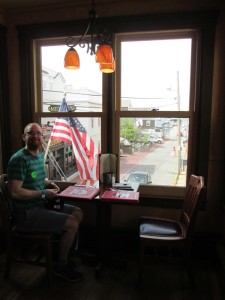 We took a small lunch break and feasted on lobster mac n cheese at
The Red Parrot
. It was so yummy and rich and even though we split an order, we were both BEYOND stuffed. I cant imagine one person able to eat that dish all by themselves. By mid afternoon we were pretty wiped out so we decided to head back to the room to relax and recharge. As we laid around, I did some research for other fun things to do while in Newport, and came upon the famous "Cliff Walk". It spans the entire eastern and southern tip of the peninsula that is Newport. Though it stated a 7-mile round trip affair, which many people drive cars or ride bikes on, we decided to be adventurous and hoof it.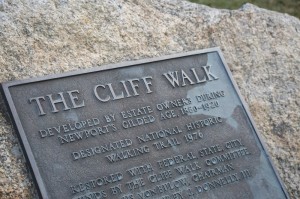 This was going to be our first trip to the other side of the city, so we were ready with our cameras in hand. Along the entire coast of the Cliff Walk were some spectacular mansions – some very old, some less old. We walked a few miles along the coast when we noticed the sky was growing dark and thick with rainclouds, and decided to bail on the rest of the walk since we didn't have the best attire for rain. So we headed back through the lush green mansion-lined neighborhoods back to downtown.
Thankfully it didn't rain so we decided to grab a bite right on the wharf for dinner; a light affair of salad, clam chowder and a BBQ sandwich. We were still really full from lunch so we didt overindulge tonight, and since we had our lobster for the day, we didn't have to worry too much! After dinner we were both ready to call it a night, and went back "home" to hit the hay.
Friday came too fast as it can do, and started with a fantastic breakfast (Jill had the same thing every day, I had another super tasty omelet). Because we spent so much time at the boat show yesterday, we decided to only check out a few things that we missed. We met some very friendly folks along the way today (some of which we actually met at the airport when we got here) which was really cool.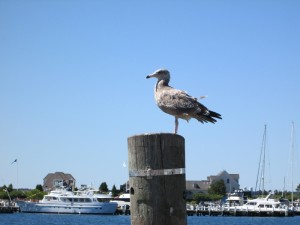 After just a few hours, we decided to leave the boat show and walk down the harbor going the opposite direction. We wandered through shipping areas, a huge shipping yard, and tons of mooring and private boat docks. It was so pretty and surprisingly not crowded this way, so we hung out for a few hours just taking it all in. 
By lunch we were pretty hungry, but since we planned to do a big dinner for our last night, we ate a very light lunch at this cafe right in town. It was really cute place, with simple food but prepared very well (and actually very cheap compared to every other restaurant). We made our way back to our room around 1pm for some R & R. It was so nice to just hang out without a real schedule or plan for the day.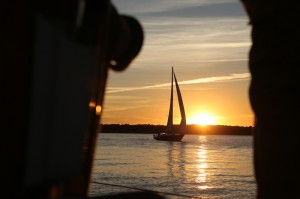 We booked a sunset sailing tour of the Bay for that evening, so we headed out a few hours before to look at the last items of the boat show that we missed, and then to our pier for the 2-hour sight-sailing tour. It was a perfect afternoon for sailing and viewing a majestic sunset. Our boat was a Gaff Rig 70-foot Pilot boat that could hold about 57 people. The tour left from the Newport Bay and travelled the Narragansett Bay area. We saw mansions, luxury yachts and sailboats all over. It was sort of a booze cruise type of deal so many of the fellow boat setters were pretty in the tank before long, which was pretty comical. All-in-all it was a fantastic way to take in the last of the day in Rhode Island.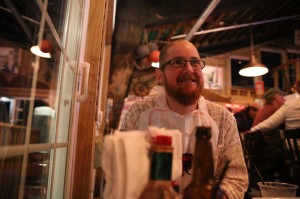 We got back to shore and ended up right at The Lobster Bar again, where we had our final meal of the trip. Jake got a full boiled lobster and I had fish and chips…oh and we shared a lobster bisque that was super amazing. It was soooooooooooooooo gooooooood. We were stuffed as we walked back to our room, though we enjoyed a cup of hot tea on the porch before going to bed that night.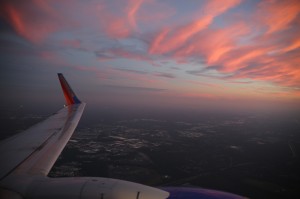 Morning came far too soon, and we had to head back home. We ate our last breakfast at the lovely B&B before we caught the airport shuttle to commence our long journey back home to Boulder. We left around 8:30AM for this multi-flight excursion, which in true form, was delayed about 6 hours, so we didn't get home until midnight (instead of 5pm as we were supposed to). We were completely jet lagged for about 3 days but it was totally worth it for a supremely excellent vacation.
It was a beautiful place and we hope to come back next year with our whole family in tow….Joe and Julie, Nana & Papa…we are talking about you!!! until next time…stay classy blog readers.