Last week, Jake and I went to Native Foods Cafe, which is vegetarian/vegan restaurant in Boulder. We were AMAZED at how tasty the food was, especially since he got a "bacon cheeseburger" that was vegan – and OH SO GOOD, and I got a meatball sub, which was also vegan and OH SO GOOD AGAIN. So, I thought, I want to try to make vegan meatballs, but make it as good as the Native Foods Cafe version.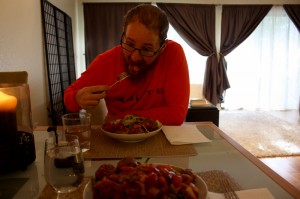 I did some investigation online and found that there are several different schools of thought on making a vegan meatball that is not only delicious, but that has the same texture/consistency as a real meatball…and many have tried and failed. I figured I'd be in for a long haul of trying and failing myself, to come up with the "perfect vegan meatball recipe". But I was in luck…because just today I whipped up the tastiest vegan meatballs that would rival those we dined on at Native Foods Cafe.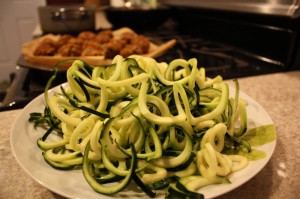 I decided that I wanted to also make zucchini noodles and mix them with some spinach linguini and top it with a homemade tomato sauce and these yummy meatballs. And MY GOD…they were so amazing. I had to jump on the blog to write this down, because I don't want to forget it! Plus I figured that the internet world needed more amazing vegan meatball recipes – so internet – HERE YOU ARE:
BEST DAMN VEGAN MEATBALLS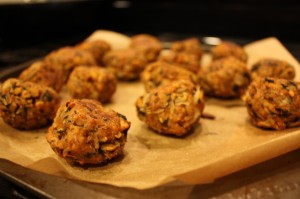 I cooked up a half-batch of the ingredient amount shown, since we are only serving 2 people — but if you have a family of 3, 4 or 5, or want to freeze your meatballs for a later time…this recipe will work perfectly for you. We had leftovers with the half-batch that we made, and Jake decided that this was his new favorite food, and wants to use these meatballs in a sub sandwich, which we will probably do sometime later this week. (I'll let you know how they turn out!)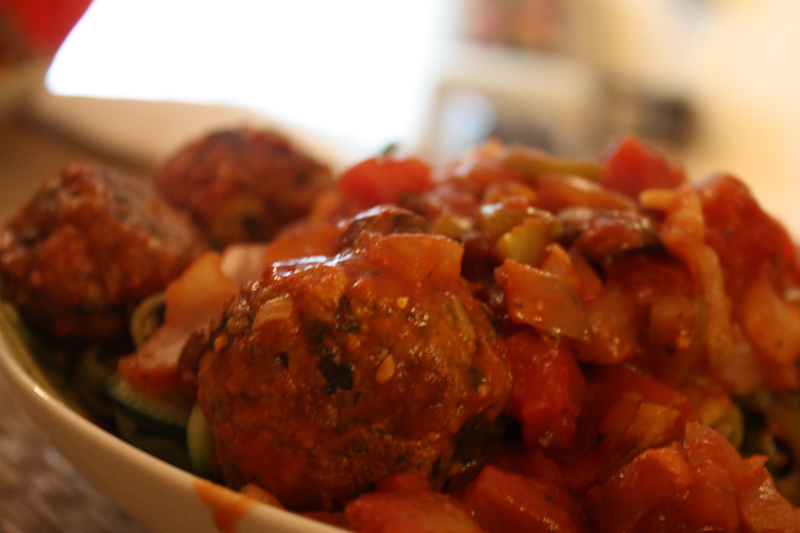 Best Damn Vegan Meatballs
2014-06-17 21:27:28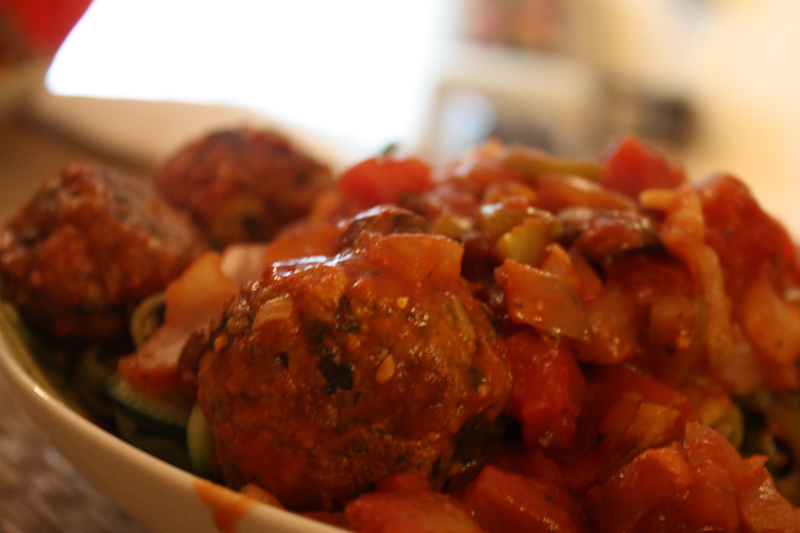 Serves 4
delicious, succulent perfect vegan meatballs - would satisfy any omnivore or vegetarian (and especially those vegans!)
Ingredients
· 8 oz tempeh
· 6 oz fresh spinach, chopped
· 2 Tbsp vegan butter (earth balance)
· 2 tsp vegan worcestershire sauce
· 1 medium sweet onion - diced
· 3 large garlic cloves, minced
· 1 cup vital wheat gluten
· 1/4 cup whole wheat flour (or mix regular white flour w/ wheat germ - half and half)
· 1/2 cup nutritional yeast
· 1/4 cup panko breadcrumbs (no need to be seasoned but its okay if they are)
· 1/2 cup pizza or tomato sauce
· 2 Tablespoons tomato paste
· 1 cup cooked brown rice
· 1 tsp kosher salt
· 1 tsp dried basil
· 1 tsp dried oregano
· 1/4 tsp red pepper flakes
· 1/2 tsp smoked salt
· 1/2 tsp smoked paprika
· 1/2 tsp fennel seeds
Directions
Steam or boil the tempeh for about 15-20 minutes to remove the bitterness. I like to boil mine, because its so easy to do! Set aside and let cool for a few minutes. Chop it up into pretty fine diced chunks. It should crumble up a bit and that's what you are going for. Nothing larger than 1/4" is ideal.
Heat a large nonstick skillet of medium heat and add chopped spinach, 2tbsp water, diced onion and garlic. Let cook for a few minutes until spinach is wilted. Add in butter, worcestershire to the pan and cook another minute. Remove from heat, add tempeh and let cool.
Preheat your oven to 375 degrees. Line a baking sheet with parchment paper and set aside.
In a separate bowl, mix together dry ingredients: flour, wheat gluten, nutritional yeast, breadcrumbs, both salts, basil, oregano, pepper, paprika and fennel.
Mix the pizza sauce, tomato paste and rice together with the tempeh mixture. Then add this to the dry ingredients and stir to combine. The wheat gluten will start to setup, so you will have to knead the "dough" for about a minute to make sure everything is mixed.
Take a small piece of the mixture out and shape into a ball that is 1-1.5" in diameter. You should end up with around 35 - 45 meatballs, depending on how large you decide to go.
Place meatballs on prepared baking sheet. Bake for 15 minutes on one side, then flip over and bake for an additional 15 minutes. Remove from the oven and let cool for 10 minutes. This is important because it allows the meatballs to firm up in texture.
Notes
At this point, you can serve meatballs as they are, or add them to your favorite sauce for 5-10 minutes to warm up. Serve Immediately or Freeze your extras for another time!
Jake and Jill went up the hill http://jakeandjillwentupthehill.com/