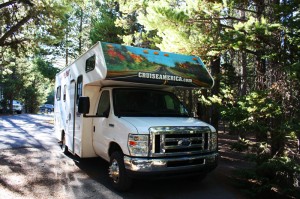 For several years, Jill and I have talked about doing an RV trip. Being the avid campers that we are / were, we have always dreamt of AC/heat, unlimited electricity, refrigeration and freezer power, and of course a roof over our heads while out in nature! We were casually chatting about doing a trip 'somewhere' like this, if you know Jill and I then you know there is ALWAYS a trip being planned and an adventure to be had. Our conversation was overhead by various family members and in no time the idea was formed. Jill's 'non-camping' parents were immediately onboard for the idea. We have no recollection of who suggested Yellowstone, but this was the destination that was settled upon for said RV adventure. Sure enough, within a few days the parentals booked their flights to Denver, the camping spots were reserved (which has to be done at least 6 months in advance because Yellowstone books quickly) and the adventure was born.
Thursday, July 24, 2014: Packing and Prep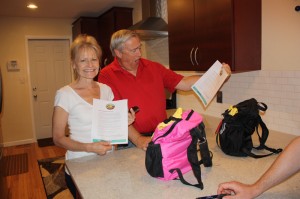 The family flew in a few days early to get settled before beginning the epic adventure. We relaxed and caught up on work, hung out in Boulder, planned the menu and packing lists for our trip and picked out a few hot spots to visit while in Yellowstone. Thursday quickly presented itself as a beautiful, sunny day. We were scheduled to get the RV around 1pm, so we left about an hour beforehand, since the place was in Federal Heights which is a good 45min drive from our place. But of course, in true 'Jill & Jake' form, the sun quickly turned to epic storm clouds and when we walked into the rental office at Cruise America, a MONSTER of a storm blew in (pretty much right on top of us). We had to wait out the storm for an hour and a half before it finally abated, so we could get the tour of our RV (soon-to-be new home for a few days).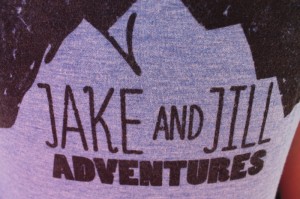 In no time, Bill and I were in the RV and Jill and her mom (Chris) were in the mini van headed to Costco, Whole Foods and Trader Joe's to stock up on food. Our plan was to leave very early friday morning, and we realized how quickly our afternoon was getting away from us (we lost a ton of time stuck in the RV place). We finally pulled in around 4PM with all of our stuff and the RV safely parked in the driveway (which barely fit, but we made it work!)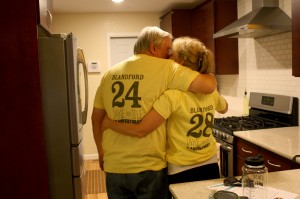 We all quickly went to work by packing cloths, prepping our beds, filling water, packing firewood, and about a million other menial tasks. Setting up the kitchen up / and prepping food were the most important, and most time consuming. Jilly and I learned a long time ago that the best way to a successful trip like this is planning ahead with the food will keep all campers happy; and that is a requirement for success.
While we were packing, a neighbor's grandmother witnessed our packing (her name Grandma Sue), and came over to give us "Crazy Pizza Money" in the form of $20. Now this is not someone that we knew at all, so the fact that she went out of her way to give almost complete strangers a $20 seems completely and unnecessarily generous. The idea for "Crazy Pizza Money" is that no matter what on an RV adventure, something will inevitably go wrong and your food situation will require some reconnoissance; i.e. – pizza, to fill the gap. Most likely it will be pizza from someplace you'd NEVER consider visiting in your normal life. A little cash on hand for the emergency pizza is a great idea for all potential RVers! We were pretty elated and in awe at this woman's thoughtfulness and decided that we were going to get her a gift from Yellowstone in thanks. We also decided that we would continue on this tradition in the future if we see people in this situation, we would pay it forward with Crazy Pizza Money ourselves!
We added the food last, since it was pretty warm in the RV and the fridge/freezer were not very cold. So we decided to put all the important items that had to be kept cold (meat, etc), in the freezer, and also packed an additional coooler since our fridge was quite tiny and couldn't fit all the food that we prepped. And before we knew it it was time to hit the hay for an early departure (6am).
Friday, July 25, 2014: The Long Drive
This morning came much too soon, and we were all feeling a little sluggish. Jake and I prepped breakfast of bagels, smoothies and coffee while the parents finished getting ready and grabbed all last-minute items to pack in the RV. We hit the road at about 6:15AM, with Bill as the first driver, Jill as the shotgun rider and Chris and I trying out the back of the RV. We played some Pink Floyd, Dark Side of the Moon and were off!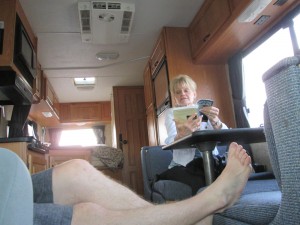 The goal with leaving early was to beat traffic, because driving a huge RV for the first time in traffic is scary. Google maps told us it would be a 9 hour drive to our destination, and we figured that it would take at least 12 hours (with the frequent stops required by the parentals). Once we hit highway 25 headed north to Wyoming, we felt more at ease. Because the RV that we rented was a bit older, it was REALLY LOUD. Everything moved, shook, rattled and howled when driving above 50MPH. Thankfully I decided to bring a roll of duck tape (which we discovered is a REQUIREMENT for any trip), and went to work on all the loose stuff. It actually made a huge difference, though it was still pretty loud. The passengers in the front couldn't hear us in the back unless yelling.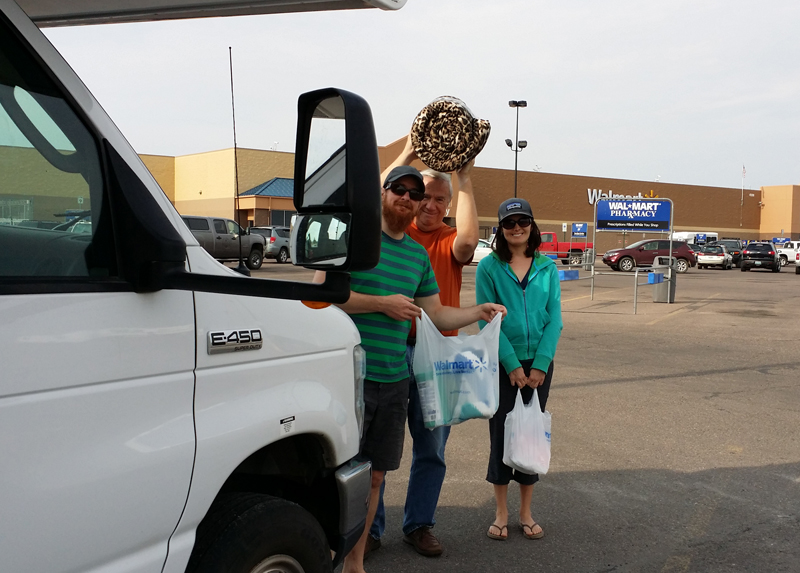 After the first hour of the drive, we all felt pretty settled in. We were chit chatting about what to expect and getting excited, and then realized that we forgot to bring ANY blankets for the parents. Now if you know Jill's mom, you would know that she has an aversion to anything below 70 degrees, and almost always wears winter coats and gloves (even in the summer!). We packed her a down sleeping bag rated to -20 degrees so that she would be sufficiently warm, but we completely forgot about her poor dad (we are still unclear on who's job that was). So our first stop of the trip occurred in Rawlings, WY at the trusted Walmart, to pick up some cheap comforter for papa and some dry ice which we thought would help keep the fridge/freezer cool.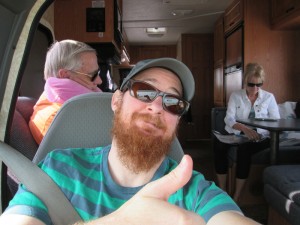 Jilly took second shift and we all rotated, so now I was in shotgun with her and her parent's were sitting in back. Jill's mom spent most of the time playing on her phone / kindle and her dad napped on the back "living room" chair (which was directly behind the passenger shotgun seat). It took her a little time to figure out how it all worked, and off we went. The driving was pretty uneventful as we got further north, but there were definitely some beautiful spots along the way. We drove on I-80 until we got to Lander, WY, where we would turn off and head straight north on highway 287. Jilly said that the steering of the RV was the hardest part of the drive. It wasn't as lax as driving our little van cross-country, because the Axel on the truck really sucked and it was so windy that you constantly had to shift the wheel to stay on the road. So after about 2 hours, we pulled over for an early lunch.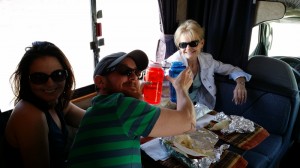 Jilly prepped delicous garbanzo-bean salad wraps for everyone, so that we could have a super yummy lunch without much effort. However, when we opened the fridge, we realized that EVERYTHING was frozen. Little did we know, dry ice is quite powerful and effective! We also noted that the freezer was now in full swing, so all the food we put in their the night before was frozen solid as well. So instead of enjoying our wraps, we sat and waited for them to thaw. It was actually pretty cool how you could pull over in a gas station parking lot, and feel completely comfortable as if in your own house. The RV was just like that!
We split two of the wraps that had thawed between the 4 of us, and then got back on the road. It was my turn to take the wheel and I drove for about 2-3 hours north. The driving was not easy, because it was so windy, so I could never really relax, but it was still fun knowing we were getting close.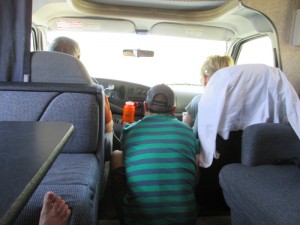 Chris was the only one who didn't drive the RV on the way up, because the wind was pretty crazy and we felt a little rushed to get there before nightfall, since we had never parked an RV in a campground, and wanted to be sure we could see what we were doing! So after my drive, Jill's dad took over again, and he pretty much took us the rest of the way there. We stopped a few more times for snack breaks, pee breaks, and to stretch our legs before we pulled into Grand Teton National Park entrance around 4pm. In order to get to Yellowstone, you actually have to go through Teton Park first (at least from the South).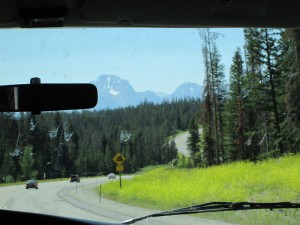 We were really excited to almost be there, and to start seeing some AMAZING scenery. It was about another hour before we pulled in to our first campground at Grant Village. We parked the RV at the entrance while I waited in a very long line to get our campsite (which we booked 6 months ago). While waiting, I met a guy who was riding his bike across America, and had already gone 4000 miles since starting in Alabama. After 20 minutes, I got our reservation, and we pulled in a few minutes later! YAY WE MADE IT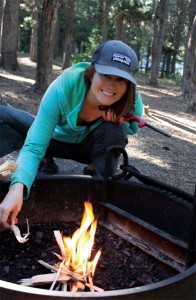 Since this was our very first day/night in the RV, we felt a little bit lost because we hadn't figured out a routine yet. We weren't positive where to put or un-put things, and we had no idea about energy use in the RV, power, water, fuel, etc., so we didn't know whether we should charge things via generator, or what. But that's okay because we made it! We decided that the first order of business was to get dinner started; the plan was to make salmon steaks, potatoes and asparagus all over open fire. So first thing we need is a fire. We had Chris and Bill chop the firewood for us and we got it lit pretty quickly. The parents were a little confused as to what to do, since they have never camped before. So we pulled out camping chairs, and some beer/wine and had them sit by the fire. This is camping! We mostly just sit and enjoy the surroundings.
We enjoyed our first dinner in the RV and the food was pretty spectacular. It was also nice not having to rush, unlike normal camping when food gets cold pretty quickly, RV's keep things warm, and you have a kitchen and microwave if you need them! We were all pretty stuffed after dinner, and learned that we had to figure out jobs for everyone, since it was cramped in the RV with everyone trying to help clean up. So I was on cleaning duty part 1 (clean dishes / food stuffs). Chris was on cleaning duty part 2, doing complete clean-overhaul after the meal – wiping down everything, sweeping, etc. Jill and Bill were on, get out of the way duty, so they left the RV while me and Chris did all the cleaning work.
By then night was almost upon us, and we all decided to start getting ready for bed. This was also a little challenging since we didn't have a routine down yet, so we were all bumping into each other trying to get ready for the night. We learned that there was also a rule of "no generators past 8pm" when Jill tried to brush her teeth and we had to turn on the generator for the power outlet to work and then promptly got yelled at for breaking the rules! But eventually, we were all cleaned and prepped for bed.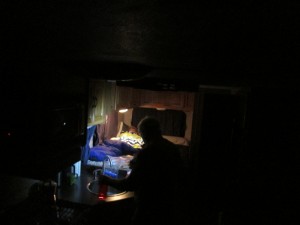 That night Jill and I slept in the bed above the driver seat, which was like our own little fort, while the parents got the queen-bed in the back. We were quite comfortable, in fact a little warm, but otherwise comfy in our bed. Jill's mom was bundled with our down sleeping bag/footies, etc. and her Dad was bundled in his $15 Walmart leopard print comforter. And we were all off to dreamland pretty quickly.