Happy Easter!!!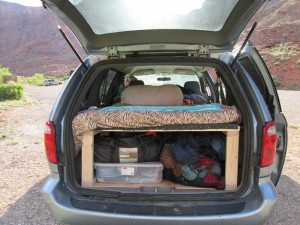 This trip was the maiden voyage of our new bed-in-van setup. The night before we left, we loaded the bed and the new mattress (woo!) and about half of our stuff for the trip. Some stuff we wanted to wait until we actually left (like food, cooler, etc) to pack so it didn't get too hot. We usually try to prep food for the journey and the destination. Jilly had to scramble to get everything ready since I completely forgot the night before, so she prepped a pizza dough, chicken (vegan) fajita veggies, fresh veggies and car lunch/snacks.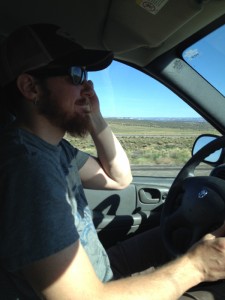 The Jilly picked me up at work on Thursday and we headed out early afternoon to the Utah desert. The drive was about 6 hours, so we rolled into Moab around 6/6:30PM. Our plan was to camp in an area very near the climbs we planned to do, but it can be a bit tricky because there are often more people than camping spaces available. We thought that by getting there before the weekenders would allow us to easily find a camping spot. We were wrong.
Being the planners that we are, we had plan A, B and C…all of which fell through with nightfall quickly approaching. We drove for about 2 hours looking for a camp spot, and even through town, which was INSANELY crowded. It made us question why we wanted to come to Moab because when we go on a trip, we tend to want to get away from civilization and crowds of people. But I digress…Since daylight was quickly fading, and every camp location was full (or so it seemed), we decided to just pull over in a discreet (or as discreet as we could) location…now that we have a bed in the back of the car it would be easy breezy.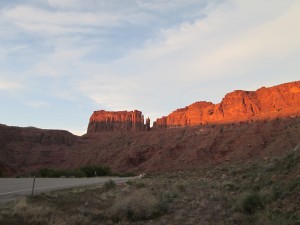 The main problem is that Moab is pretty strict on camping laws. You pretty much have to be in a designated camping area or you might as well drive 20 miles out to the next town over, since that's the next best option. But we were pretty tired and didn't care, so we pulled over and hoped that because of the crowds we would be forgotten. We pulled out the basic necessities and prepared our first meal; pepperonni pizza. Good thing Jilly is such a great chef and prepped just about everything so it was as easy as putting the dough in a pan, lighting the stove and adding already prepared sauce and toppings and heating for about 20min. It was SO FREAKING TASTY! I was so impressed that it turned out as good as it would if we grilled it at home…plus in our bootleg camping spot, it was even better.
By the time we finished chowing down, the light was practically non-existent, so we figured we should pack everything back up in the van and hunker down until tomorrow; hoping to cause as little attention as possible. But, true-to-form, we were woken around midnight when a state patrol officer and 2 of their buddies pulled up with their bright lights flashing (note to self, must get curtains for back window of the car!) and blaring right at our heads. Jilly woke in a flash and prodded me to wake up because cops were here to "bust us". In my hazy state, I rolled into the front seat and tried to wipe the sleep from my eyes for the predictable visit. We waited….and waited….and waited. Nothing.
There was a conversation happening with someone, but we couldn't quite make out what they were saying nor could we see anything because the lights were so bright. Turns out the cops actually pulled over someone (we assume drunk driver based on the conversation). After about 20 minutes, the cop cars left one-by-one. How crazy?!?! They didn't come to bust us afterall, we were safe! Actually we thought we just got lucky but felt more at ease since there were 3 cops who didn't do anything and we were literally sitting ducks.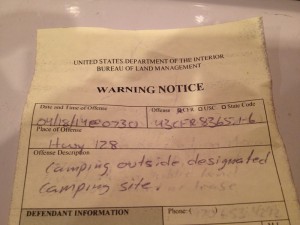 Early morning rolled around, and I woke up about 7:30AM. It wasn't the greatest night of sleep, with cars zooming by every few minutes until 2AM and the cop awakening, so I was really groggy. I cracked open my book to read a bit, got through 2 sentences before I looked up and saw a ranger pull up behind our car. Good thing I was already awake, so I just got out of the car so as not to wake up Jilly. I told him that we got in late in the day, looked for camping until it was dark and just decided to call it until the morning. He totally understood and after seeing that my record was squeaky clean, simply let us go with a warning. He also explained that normally our plan would have been great but this week was "Jeep Week" (apparently a HUGE Moab event) so the whole town was pretty out of control.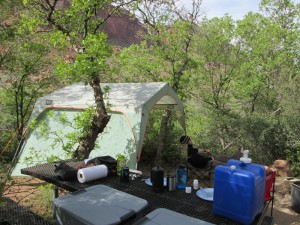 Jilly woke up and within about 20 minutes of the ranger leaving me with a warning ticket, we rolled into our camp site (which happened to be around the corner from where we bootlegged the night before). We set up our cook tent, put coffee on and made a nice pancake and sausage breakfast. I had about 4 mugs of coffee before I felt "awake". We spent the morning just hanging out at our site, which was really cool. We had a bit of a private oasis surrounded by trees (unusual in the desert) and access to a little natural "dock" right on the Colorado River. It was so cool and refreshing, feeling about 10 degrees cooler down there, and such a beautiful view.
After a quick and easy lunch of veggies, hummus and PB sammies, we decided to attack some famous Moab desert crack climbs. We headed up Potash Road and quickly knocked out some warm-ups before jumping on more challenging cracks. I wowed a group of new trad climbers after I sent the classic "Lucy in the Sky" (and took a few falls along the way) and amazed them even more when I said that this was my first time climbing on gear for over a year. Jilly quickly sent it without any trouble even through the crux (the hard part), and then jumped on another route that those climbers put up. Its fun to share climbs when other people are around. This means that if you send routes, you leave your top-rope setup and others can climb it, and you can climb theirs as well. It is a really great way to get a lot of climbing in a short amount of time, because leading is a lot harder and more tiring than top-roping.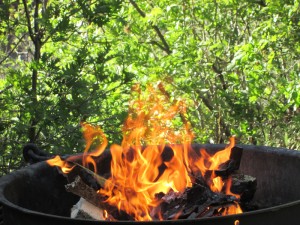 After we wore ourselves out sufficiently (after 5 hours) it was back to camp for some icy cold beer from the Moab Brewery. We decided to build our first fire and have an easy meal of baked beans and hot dogs since we were really tired and not motivated to cook anything. We attempted vegan hot dogs….not my favorite thing on the menu, but passable as hotdogs go. It was completely experimental since we weren't sure about them but thought why not give it a shot. They were totally fine but not super tasty as real hot dogs. One good thing is that usually after eating real hot dogs, we kind of feel like crap, but after the vegan ones, we were great.
One downfall to camping in Moab is that about 95% of it is right off of the road. All night long, every night there are huge jeeps, trucks, and loud-ass cars driving 50+ MPH until about 2AM . Even a few miles outside of town, which is where we were, cars kept coming nonstop. So, we were not huge fans of the camping. We also managed to have the worst camping neighbors ever; redneck dudes with their girlfriends blaring their crappy loud music until 3AM (pretty much right next to our van where we were trying to sleep). Both nights they came to camp with music at full-volume at 2am, followed by huge camp fires and plenty of yelling….so yeah we are not fans of camping in Moab (side note: we did find a great spot off the grid far from town that we will not be telling anyone about).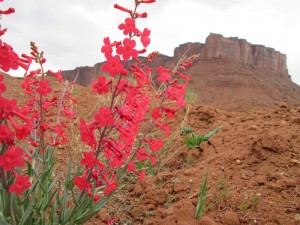 Our second morning we awoke to rain and I knew we would not be climbing today. The fragile Wingate Sandstone (the rock in Moab) is just plain dangerous to climb when it rains. Think of it like really hard clay (expanding, cracking, breaking at the lightest touch). So we adapted our plans and decided to drive out to Castle Valley which is about 15 miles up from Moab (only 7 miles from our campsite). There is a pretty amazing tower called Castleton Tower that we were thinking we may like to climb sometime, and this was a perfect day to go check it out.
The hike was amazing. Really the whole drive up there was amazing. It felt like the secluded hideaway we were looking for, and it was SO FREAKING BEAUTIFUL. The trail was a bit of a brutal uphill battle for a few miles and several loose patches of large boulders for scrambling. The weather was a little iffy, sometimes pouring rain, then it would stop and the sun would pop out, then get cloudy and foggy and cold and rainy and repeat. I almost bailed but Jilly insisted that we continue (and I'm really glad we did) because it just kept getting better and better as we kept going. We found ourselves alone in the sweet desert silence soaking in every moment.

Here is a short 2 minute video of some climbing and the hike.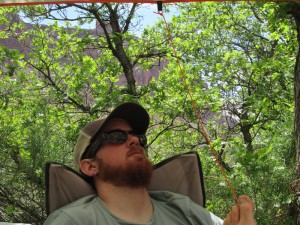 After the hike it was back to camp for a little break. It was sunny and warm when we got back, and our little oasis was perfect. The cars were at a minimum, it was pretty quiet besides the rushing water of the Colorado River and the chirping of all the birds. We ate more veggies and hummus (the most refreshing food after a hard hike) and bread service (with pepperoni, cheese and crackers). I was so content that I fell asleep right after eating while Jilly fed birds and took pictures.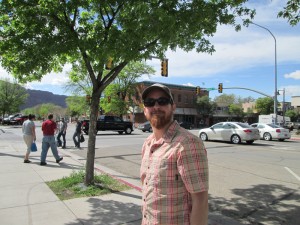 After some refreshing R&R, we decided to head to downtown Moab for a little walking, shopping excursion. I had to bribe Jilly with a 'prize' to get her to accompany me. A few T-shirt shops later we were both sporting some new digs. Most of the crazy "Jeep People" had left so it was much more pleasant walking through the town looking at all the touristy shops. After about an hour, we decided we were ready for dinner and drove back to our campsite. It was a perfect night for a big feast, so we cooked our chicken fajitas and veggies in the fire. We like to make one meal completely with the campfire, just to see if we can, so we made foil balls with peppers onions and vegan chicken and spices, and threw them in the fire for about an hour. I cut up fresh cheese, tomatoes, avocado and cilantro, and we topped it all off with tomatillo salsa. This was by far the tastiest (and messiest) that we had, but man oh man it was good. We must have been starving because we wolfed it down and had 3-berry cobbler (camp meal) for dessert.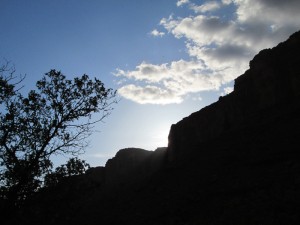 Our last night we decided to sit around the fire as long as we could until we burned through all the wood we brought, and until the stars were shining on us. Usually we head to bed about nightfall (around 9pm). But our fire was in great form and the stars were so amazing that we stayed awake until about 11pm before going to bed. At about 10:15pm, there were really bright lights in our campground followed by the familiar blue and red lights of the cops (not again!). Apparently there was a group in two cars racing (and probably drinking) and they all got busted right in our campground. We weren't in the car yet so we could actually eavesdrop on the interrogation a bit. It felt like we were cop-car magnets on this trip, though luckily not culprits.
We crawled into our super comfy bed for our final night in Moab about 11pm. It was probably our best night, but we also learned that we need to do a few more things to make the bed-in-van scenario even more comfortable (curtains, screens on windows, smaller pillows). Mostly easy stuff, but for a first-go, it was very successful.
We both love the desert and have another Moab trip planned very soon. However high crowds, high cost and general craziness will likely keep us away from this adventure hotspot. Although we did discover a very remote and beautiful climbing/biker campground that was way off the beaten path and right up our alley, which we may come back to if we decide to come back. But all-in-all, a really beautiful place to visit.