Today was just like any other…woke up to a beautiful sun-filled morning. Rode my bike to work and enjoyed a mellow workday. Decided on the ride home that we should go for a sail to round out this "typical" Boulder Monday. So, we headed over to the Boulder Reservoir in pretty much perfect sail conditions (partly cloudy, winds around 5-10MPH).

When we got out on the water, around 4:00PM, the wind was super light and it also happened to be No Wake hours, which is AWESOME! The community sailing school was actually out in full force as well, with about 10 boats with kids and adults (all ages) playing around. It was the most sailing activity we have EVER seen. Anyways…the clouds started to roll in, quickly, but the conditions were very mellow so we persevered. The closer the storm got, the more the wind gradually picked up to around 12-15MPH, which are really perfect for us, because it is SUPER fun. We decided to stay out during the storm, figuring that if it got too crazy we could EASILY drop the sails and ride it out. But within about 3 minutes, I noticed lightening off of the starboard side (the north) and thought, "okay lets head back in." So we moved to close hauled point of sail and thought "we might as well have a fun ride in."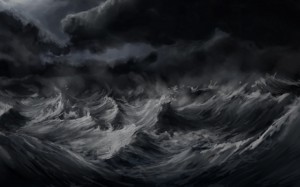 Well that sounds really nice and all, but that's not how it ended up. The wind was really starting to pick up now, I would guess 25MPH, so Jill and I (at the same moment) said "LET'S DROP THE JIB." Jilly reached over, un-cleated the halyard and BOOM, a huge gust came out of nowhere and the boat started tipping…FAST. For a split second, I tried to turn the boat into the wind to lose pressure and Jilly dove (literally) to the opposite side of the boat to counter-balance, but it was too late; We couldn't stop the inevitable… (waves in picture may appear larger than real life)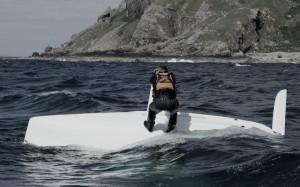 As soon as we both realized it was too late to "right" the boat; without speaking, we both jumped into the water. My first thought was to avoid getting caught in the sails, which is pretty much exactly what Jilly said she was thinking as well. The water was pretty cold, but we were distracted by the fact that Sailng Vessel, Bosco, very quickly flipped completely upside down with the mast and full sails pointing to the bottom of the lake. (picture not of us, simply meant to illustrate)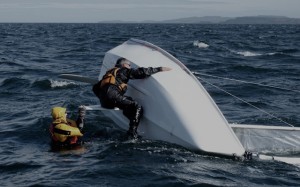 It took us seconds to take action…Jill was able to grab onto the stern dockline and I prepared to climb the hull of "SV Bosco" in order to flip her upright again. I stood on the bottom-side the of the boat while holding on to the keel to rock the boat over. It took about 2 minutes but it finally started to come around. Once the sails and mast were visible in the water, I was able to stand on top of the keel; and finally my weight rocked the boat upright. As it popped up (which happened really fast in the heart of the storm mind you), the self draining cockpit spilled out several gallons of water as gravity sort of rolled me over the side and into the boat (it was surprisingly easy). (picture is not of us, simply meant to illustrate)
Jilly was still holding on to the stern line, but pretty much as soon as the boat went upright, it threatened to throw back over again since the sails were still up and the wind was still howling. So she reeled herself in and grabbed onto the opposite-side corner of the hull of the boat to try to balance the weight while I was racing to pull the sails down. Unfortunately waves were actually crashing over the boat and the halyards (the lines that hold the sails up or down) were all tangled so it took a lot of fussing to get the sails down to a somewhat manageable level. All this time we saw that the storm and water was only getting worse…I'm telling you the waves that kicked up were unlike anything you would ever expect on a mountain lake. But they were there and they were crashing over everything.
After I managed to get the sails down, I went to retrieve the other "most precious" cargo…Jilly. With one quick pull and a strong timely kick from her, she was back in the boat and we were both TOTALLY DRENCHED and smack in the middle of the lake.
Jill got to work on trying to get things back together and making sure we didn't lose anything (all we lost was her hat, which blew off her head pre-capsize), while I attempted to steer/paddle us towards dock. It didn't take long to realize we were pretty much SOL because the wind was just too strong and our paddling had zero-to-no effect other than keeping the boat from blowing sideways into rocks. As soon as we decided that it was going to be hopeless, help arrived!!!
The lake patrol boat spotted us and saw our topping lift flailing through the sky, came by to ask if we needed some help…and we did! After making sure we were okay (I got a small cut on my thumb but that's it), he tossed us a tow line, clipped into our boat and away we went. As we were being towed through the water the waves continued to splash over the bow of the boat. Soon enough we were in the protected cove, and back at dock to tie up the boat.
As I went to get the car/trailer, Jill continued working on sorting out the boat, since things got pretty messy when the sailboat did a complete 360. On my way to the car I realized I was FREEZING COLD (teeth chattering and body shaking), even though it was around 75 degrees when the sun was out. It had been about 25 minutes since our dunk in the water and I realized I was really cold (probably stage 1 hypothermia). So I started running to the car to get on dry clothing and a jacket and rushed back to the dock because I knew Jill must be feeling even colder if she's still out in the elements and was in the water a lot longer than me.
Soon enough, we got the boat packed up and on the trailer, Jilly bundled in warm dry clothes and we pulled the boat back to it's home. It was clearly full of water, so we tipped it up for about 35 minutes until water stopped spilling out. Some people fishing on the dock saw us and said "you know you can't take the lake home with you."
Since we couldn't take any pictures during the adventure, we have found some so that you all in bloggy-blog land could imagine us in the huge epic Boulder Colorado waves and the black sky (which was really just a mild gray)…but for effect. We have also attached a video to illustrate how to right a capsized boat.
When we pulled the car back home after our adventure, Jilly said something kind of funny; As she walked in the house she turned and said, Everything looks the same, but I don't feel like the same person, like I've changed..and its true. It felt like we both appreciated the mini-epic and it has changed us inside just a little bit…in a good way. It was as if life was giving us our own little vortex (since that's what it felt like on the lake during the incident) of experience to teach us the lesson to TRUST THE UNCERTAINTY of life. The world gave us validation that we should trust in ourselves and we will be fine.
The moral of the story is to reflect on all we have learned:
1. We never freaked out, since we knew there was nothing we could do once the boat started to flip and we didn't panic. Both of us jumped clear of the boat without getting tangled up.
2. We both knew to keep hold of something on the boat (that is still attached to the boat) so as not to float away in the current. Jilly grabbed the stern line, and I grabbed the hull to gradually get it to flip over.
3. We were both wearing PFD's and dressed in sailing attire that didn't weigh us down in water. We had straps on our glasses and just about everything loose was tied down to the boat, and valuables placed int the dry bag (waterproof).
This is the sort of thing we do for every sail…we make sure we have a plan if something goes awry and make sure we both know exactly what we are going to do in the event of that circumstance. Though we hoped it would never happen to us, its really nice to know that we handled it EXACTLY the way you should. We probably could have made it back to dock on our own, but it would have taken MUCH longer and we would have been very cold and miserable by the time we did get back, so I'm very thankful that lake patrol came by.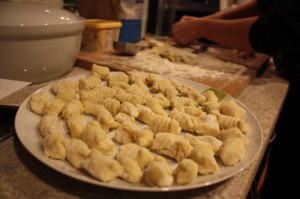 As I type this, we have sailing gear soaked and strung out all bout the house, two huge sails draped over patio furniture on the back deck and we are figuring out our plans to go back out there tomorrow! OH and Jilly cooked us a delicious homemade gnocchi with spinach and sage-butter garlic sauce and green beans. A GREAT DAY!