Happy New Year!
It has been quite a busy couple of months, and both Jilly and I have been MAJOR slackers when it comes to posting about our life's happenings. Really there isn't that much going on. We've both been working a ton and trying to work out before the holiday set in. We were really going stir-crazy in Colorado, so our New Years trip to Arizona was just the thing we needed!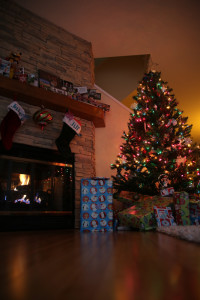 We celebrated Christmas in true J-squad fashion with lots of presents, food and fun. We spent X-mas eve and day with our dear friends, Patty and Rob. It was really wonderful (as it always is) to hang out with them because they are like our family, so it made up for the fact that we couldn't make it to Chicago to Jill's family X-mas party (which usually involves around 30+ people).
Then two days later, we headed out to Tucson, AZ for a week of fun in the sun, or so we hoped! Quite a few members' of Jilly's family were headed that way as well, so we knew we would be in for a wild week of activity. We flew in to Phoenix on Saturday morning around 7AM, but were pretty tired by the time we got to Tucson in the early afternoon. It was nice hanging out with Jill's parents for the day. We had our mini X-mas celebration with them and a quiet dinner at home, just settling in, nothing fancy.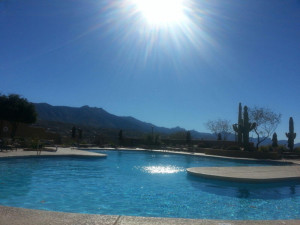 The rest of the time was a whirlwind of eating, playing games, hanging out with the entire family (the Fletcher family — John, Kristy, Will and DJ, Aunt Pat, Renee and Mike, and Jill's parents and us). The weather was fairly nice the first several days we were there, so Jilly and I always made sure to do some sort of exercise. We hiked one day with Jill's dad which was really nice (especially with all the commotion and people) and swam laps a couple of days before the cold set in.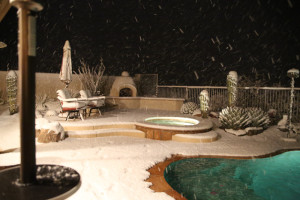 New Years brought a bit of a mega snowstorm that we weren't really expecting, but it did make for an entertaining evening. The rest of the trip was full of shopping (For Jill, her mom and Renee), and playing video games and watching football (for me, Will, Mike and Jill's Dad). We spent just about every single day with everyone, so it felt like one long week of craziness! Even though it was really cold, we had a really awesome time with everyone.
The last few days warmed up a lot so we did get to lay out in the sun a tad bit longer, but it definitely wasn't enough time! We flew home the following Saturday afternoon around 5PM, but because of the crazy snow, and freezing temps all week, our car was frozen shut and it took us until after 10PM to get home.
All-in-all it was a really fun trip, even though action-packed. It was a little bitter sweet because neither of us really wanted to come back home, though we have A LOT to do in the next few months to get ourselves ready for some new adventures, which many of you are already privy to. We will keep you all posted as the time gets nearer and until then, we hope you have a wonderful (and warm) January!