We did it! What are you talking about? Well, we are talking about our 2-month-long quest to find the "perfect" pancake recipe. Let me preface this by saying where this idea came from. One morning, Jake and I went to our favorite breakfast spot, The Huckleberry, in Louisville, Colorado. If you have never been there, DROP EVERYTHING…..AND GO THERE!!!
They have the greatest breakfast items that we have ever had, (and believe me, Jake has had his fair-share). Well, we went there one day a few months ago, and I had my heart set on a waffle for breakfast. I knew they had amazing waffles, so I was really excited! When I got there, though, it appeared they removed waffles from their menu (as they often change things up seasonally). I was really disappointed, but I went with my old stand-by, the huevos rancheros (which is unlike any other), with fresh rice, avocado, eggs, hard-tostada, super spicy green salsa (homemade)….and LOTS of yummy cheese….but I digress.
Jake decided that he was going to get pancakes, as all the waffle talk gave him a hankering for something carb-rich. And when his plate came out, I think we both scarfed his pancakes faster than anything I have ever seen. They were simply fantastic. Since then, our quest has been to find a pancake recipe that we can cook ourselves, to match the greatness of the Huckleberry cakes.
And today….we did! We have tried and tried (I believe a total of 12 batches of pancakes) over the last few months, and today was the day. We made the perfect pancakes (or as near perfect as we have tasted thus-far). And on an even better note, we are going to share that recipe with you, the mass public, so you can indulge in these glorious Jilly Cakes (as I like to call them), yourselves.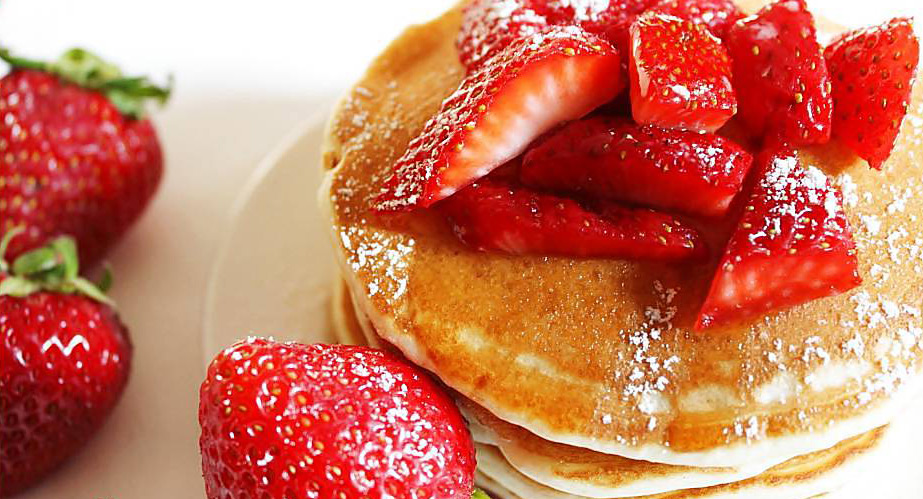 Jilly Cakes Pancake Extravoganza
2014-06-17 21:58:25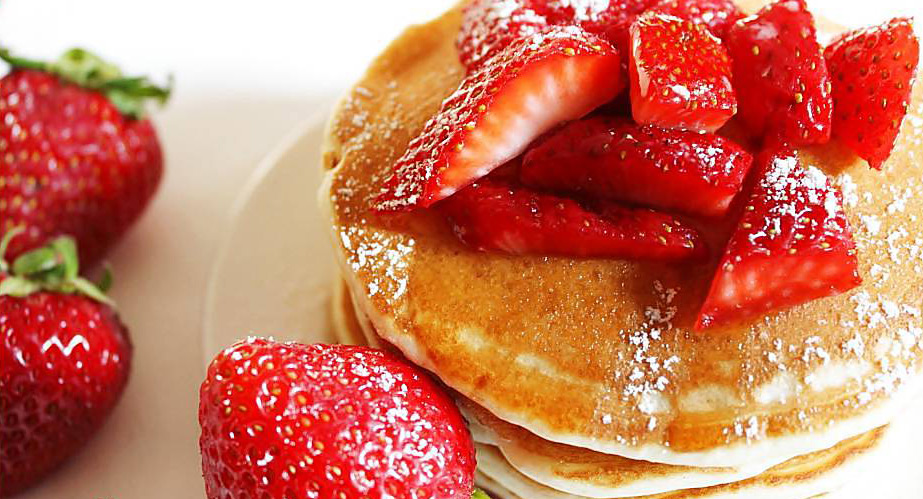 Serves 2
the search for the greatest pancake recipe has come to an end - and it's right here, called Jilly Cakes!
Ingredients
3/4 cup milk
2 tablespoons white wine vinegar
1 cup pastry flour
2 tablespoons organic cane sugar
1 teaspoon baking powder
1/2 teaspoon baking soda
1/4 teaspoon nutmeg
1/2 teaspoon salt
1/4 teaspoon vanilla
1 egg
2 tablespoons butter, melted
Fresh strawberries, blueberries (or fruit of choice)
cooking spray
Directions
Combine milk with vinegar in a medium bowl and set aside for 8 minutes to "sour".
Combine flour, sugar, baking powder, baking soda, nutmeg and salt in a large mixing bowl. Whisk egg, vanilla and butter into milk mixture. Pour the wet ingredients into the dry ingredient bowl, and whisk JUST until lumps are gone.
Heat a large skillet over medium heat, and coat with cooking spray. Pour about 1/4 cup of batter onto the skillet, and cook until bubbles appear on the surface. Flip with a spatula, and cook until browned on the other side. Top with fresh fruit and powdered sugar and serve!
Jake and Jill went up the hill http://jakeandjillwentupthehill.com/